The ETF, SKYY, has some real winners among its 31 holdings, including NFLX and AMZN.  While /ES is down 1.1%, and SKYY is down 0.77% today, NFLX and AMZN are both up today.  NFLX even hit a new all time high (ATH) today.
Note that today's drop is largely because of the financial sector, down 3%.  The S&P Tech sector is only down 0.92%.
While SKYY has proven to be a great buy and hold, especially if you bought at the beginning of 2016, you have to wonder if you can cherry pick its holdings to build a better cloud portfolio.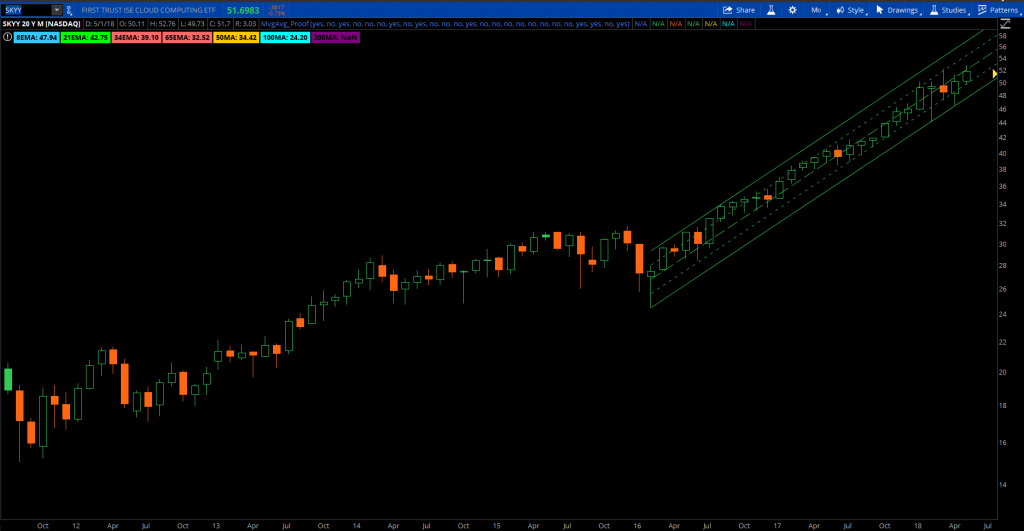 Here are the holdings in SKYY as of 2018-May-29.  Click on a stock with a link to learn more.
| | | | |
| --- | --- | --- | --- |
| Security Name | Identifier | Classification | Weighting |
| Netflix, Inc. | NFLX | Internet & Direct Marketing Retail | 7.30% |
| Akamai Technologies, Inc. | AKAM | Internet Software & Services | 5.35% |
| Amazon.com, Inc. | AMZN | Internet & Direct Marketing Retail | 5.34% |
| F5 Networks, Inc. | FFIV | Communications Equipment | 4.88% |
| Red Hat, Inc. | RHT | Software | 4.88% |
| salesforce.com, inc. | CRM | Software | 4.78% |
| NetApp, Inc. | NTAP | Technology Hardware, Storage & Peripherals | 4.54% |
| Cisco Systems, Inc. | CSCO | Communications Equipment | 4.52% |
| VMware, Inc. | VMW | Software | 4.43% |
| Open Text Corporation | OTEX | Software | 4.15% |
| Alphabet Inc. (Class A) | GOOGL | Internet Software & Services | 4.08% |
| Facebook, Inc. (Class A) | FB | Internet Software & Services | 4.07% |
| Teradata Corporation | TDC | IT Services | 3.98% |
| Zynga Inc. | ZNGA | Software | 3.97% |
| SAP SE (ADR) | SAP | Software | 3.92% |
| Juniper Networks, Inc. | JNPR | Communications Equipment | 3.83% |
| Oracle Corporation | ORCL | Software | 3.74% |
| Equinix, Inc. | EQIX | Equity Real Estate Investment Trusts (REITs) | 3.26% |
| Microsoft Corporation | MSFT | Software | 2.55% |
| Hewlett Packard Enterprise Company | HPE | Technology Hardware, Storage & Peripherals | 2.43% |
| Apple Inc. | AAPL | Technology Hardware, Storage & Peripherals | 2.39% |
| International Business Machines Corporation | IBM | IT Services | 2.03% |
| Adobe Systems Incorporated | ADBE | Software | 1.40% |
| Intuit Inc. | INTU | Software | 1.31% |
| Activision Blizzard, Inc. | ATVI | Software | 1.19% |
| j2 Global, Inc. | JCOM | Internet Software & Services | 1.18% |
| CA, Inc. | CA | Software | 1.12% |
| Check Point Software Technologies Ltd. | CHKP | Software | 0.97% |
| NetScout Systems, Inc. | NTCT | Communications Equipment | 0.92% |
| Wipro Ltd. (ADR) | WIT | IT Services | 0.89% |